BACH FLOWER ESSENCES:





"Disease is solely and purely corrective. It is neither vindictive nor cruel, but it is the means adopted by our own souls to point out our faults, to prevent our making greater errors, to hinder us from doing more harm, and to bring us back to the path of Truth and Light from which we should never have strayed."
(Dr. Edward Bach)


Dr. Edward Bach (born on Sept. 24, 1886 - died 50 years old on November 27th, 1936) was a successful medical doctor working with homeopathic nosodes before he closed his practice to find the Bach Flower Essences. He was driven by the idea that there must be a high range of plants with special qualities, capable of harmonizing the different states of mind of a person before the first disease symptoms appear in the human body.
During the search for the remedies he became so sensitive that he could tell the typical influence of a flower by putting a leaf under his tongue.
WHAT ARE FLOWER ESSENCES?
Flower Essences are holistic remedies that have stored the "energy potential" of specific plants and by taking them orally they subtly harmonize your unbalanced state of mind. Every essence has its typical, particular subject. They are made for everyone's emotional and spiritual well-being.
WHAT ARE THE REMEDIES FOR?
There are remedies for anger, moodiness, lack of self-confidence, different kinds of fear, envy, jealousy and even hatred. Once you have identified your individual remedies you prepare a mixture from the stock bottles and keep them with you for as long as you feel that you need their influence.
DO THEY HAVE ANY SIDE EFFECTS OR ARE THERE ANY CONTRAINDICATIONS WITH MEDICATION?
No, they do not have any side effects because they do not work on a chemical level. They work on the energy field, the aura of a person, not on the physical level. And since they are energy vibrations and no chemical substances they do not interact in any way with drugs.
WHAT IS A FLOWER ESSENCE CONSULTATION ABOUT?
When you call in for a consultation with me we sit together on a table and you tell me your emotional state, your daily life issues and what it is you would like to work on and combined with certain tools that are available to me as the practitioner we will figure out the remedies that best suit your needs.
Everything you tell me stays just between you and me. Confidentiality is one of the first rules in the kind of work I do.
You are also very welcome to set up an appointment with me for a general educational consultation where you can ask me all the questions you have about Flower Essences.
---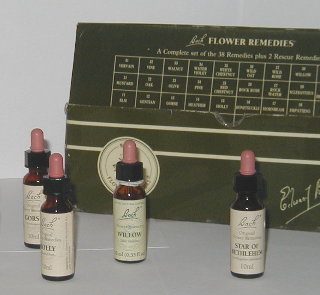 SOME EXAMPLES FOR BACH FLOWER REMEDIES:
OTHER FLOWER ESSENCE SYSTEMS I WORK WITH:
FES Quintessentials, Orchid Essences (Amazonas Remedies)
---
Bach Flower Remedies ...